Chicken Pens and Coops Melbourne

Chook keeping dates back over 5000 years and has provided pleasure to millions of people around the world throughout the ages. In addition to providing great companionship in keeping them as pets, they provide you with deliciously yummy eggs that are laid fresh daily.
Yummy Gardens can help you get started with chicken pen/house, a secure run and also supply you with chooks.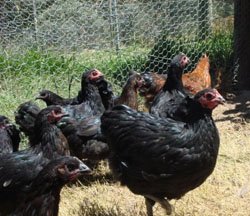 Chooks are very easy to cater for however have some basic requirements.
They require a chicken pen, coop or house that is :
Fox and dog proof

Preferably an area where they can move from inside to an outside area or fenced in run.

A nesting box

A perch approximately 300mm or more off the ground

A dry area that is ventilated however it must also provide shelter from cold drafts and very hot winds

Protection against inclement weather and direct sunlight
Call Yummy Gardens today if you'd like to chat more about building a chook house at your property.
What's the Difference Between a Chicken Coop and a Chicken House?

Chook Pens /Houses – A chook house, chook pen, hen house, or chicken house are larger buildings where chooks can be kept. It is a  permanent structure and provides sturdy protection and a large area for the chooks to live permanently, however access to a run or an area of your garden is preferable.
Chicken Coop /Tractor – It is generally accepted that coops are smaller than a house, and not as permanent in their location and to our way of thinking, a cage of some sort. A chicken coop becomes a chicken tractor when wheels are added which enable it to be moved around the yard or vegie beds.
If you are going to keep chooks on an ongoing basis we prefer to build a chook house in preference to a coop. This will ensure that the chooks have plenty of room, a dry shaded area with a deep litter floor and an outside area or run.
We like the house itself to have a solid floor such as concrete, bricks or paving with deep litter which in addition to providing a dry area reduces the chance of rodents being a problem. We have Chicken tractors that are supplied to clients on a rental basis for a try out however do not make or sell them as a permanent chicken house.
Chook houses should face north to take advantage of the winter sun and you should allow a minimum of .40 sq m per bird as the very minimum. To reduce the risk of fox attack chooks need to be locked up each night.
Unique Chicken Coops and Houses by Yummy Gardens

Yummy Gardens can design and build a chook house for you to suit your requirements based on the number of chooks you wish to keep. Our chook houses are first quality and built to last, and it addition to providing a healthy environment for your chooks will look great in your backyard.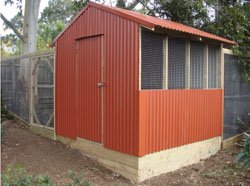 We can build the custom chicken house out of corrugated iron, timber or a combination of both. Our custom made chicken houses have a structural timber  frame constructed from Cypress macrocarpa which is a long lasting external grade timber which has not been treated with any preservatives or chemicals. This timber is ethically sourced and salvaged from redundant trees and is also used in the construction of our chook runs and veggie beds.  
We recommend that an enclosed run be incorporated in all chook houses. We construct the frame to your chook house at our workshop and then come to your property and install the chook house, which is a permanent quality structure built to last.
We have looked at a lot of the commercial made houses which can also be used as aviaries, rabbit hutches, garden sheds etc and feel that they do not offer chooks full protection from the elements. We care a great deal about our chooks and like to ensure that they are comfortable in all weather conditions. We have also reviewed the prices that these chook houses sell for and believe that we are more than competitive in price.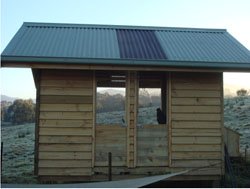 Take a look at our Gallery to see more of the chicken houses and coops that we have designed and built.
We have incorporated the following into the design and construction of our chook houses.
External laying box enabling eggs to be collected from outside ensuring a secure and dark area for the chooks to lay in.


Concrete or paved floor to keep out rodents
Tall enough for you to enter, generally 1800mm to 1900mm


Adequate ventilation preferably on north side with 12.5mm x 12.5mm mesh


Cladding of Colourbond, Zincalume or Cypress Macrocarpa weatherboards


Rodent and Dog/Fox proof 
Structural timber frame that is chemical and preservative free  

Perches and hanging points for drinkers/feeders
There are various chicken pens, coops/ chicken tractors on Ebay etc that do not provide your chickens with much protection from the elements in addition to being very flimsy. You only have to read the comments by many buyers on the various poultry blogs. We have built our coops taking this into account and believe that our coops will stand up to scrutiny and protect your chickens.
We do however acknowledge that there are some other well made chicken pens and coops out there and as with any purchase you will need to do your homework prior to purchasing. Ideally coops are more suited to the smaller breeds or bantams however chooks can be housed in them providing they have access to a larger area during the day. It also depends on how much space you have available, how permanent it is and whether you intend to move the coop around the yard.
Looking after your chooks is very simple. They require permanent fresh water, grains or chook pellets, some shell grit for calcium and will eat most kitchen scraps and love greens which provide vitamins and contribute carotenoid pigments for yolk colour. You can purchase grain mixes and there are several different brands of layer pellets available which provide all the vitamins and minerals your hens require.
Chooks are sociable animals and you should never have only one (two or three are the preferred minimum). We can help you with the information you need on housing, care, feeding and maintaining healthy chickens.
We welcome you to Contact Us online or phone Greg on 0431 382 230 with your inquiry today.
To Yummy Gardens Home from Chicken Pens and Coops